This week I had to buy plane tickets for my holiday travels. We're leaving Wednesday for my in-laws place in Salt Lake City, UT. Then on Christmas day we're flying down to southern California for my brother's wedding, and then back home from there a few days later.
I thought I'd do the trip in my new Baron, just for comparison. It seemed shame to take that big airplane with just two of us, so I simulated having my 85-year-old grandparents along for the ride in the back. They'll be coming out for the wedding, anyway, and since they're from Utah, I figured they wouldn't mind the trip.
With four of us and 100 lbs. of baggage, the airplane was at max gross with 124 gallons of fuel. That's enough for three or four hours plus IFR reserves. Heading west against the prevailing winds I planned on about 500-mile legs, and I wanted to make the trip all in one day.
Preflight at KCPK started at 5 in the morning. We were rolling by 5:15 on an IFR flight plan to Cincinnati Municipal (Lunken Field, KLUK). Smooth ride out, through some clouds. Got there just as the sun was coming up around 7:45.
Leaving before dawn
We took half an hour to stretch our legs while the plane got refueled, and then saddled up for the next leg to Kansas City Downtown (KMKC). There was a huge storm moving across the midwest by this point, but I thought I'd be able to scud run along underneath, so we headed out VFR at 6,500 ft. Then the clouds got lower and it was 4,500 ft. The clouds were still coming down, with a few hundred miles left to go, so I called uncle and filed IFR.
Broke out before we even hit the final approach fix at Wheeler Downtown, but it started snowing while we were there, so it was an IFR departure for our next stop, Centennial Airport in Denver (KAPA).
Snow in Kansas City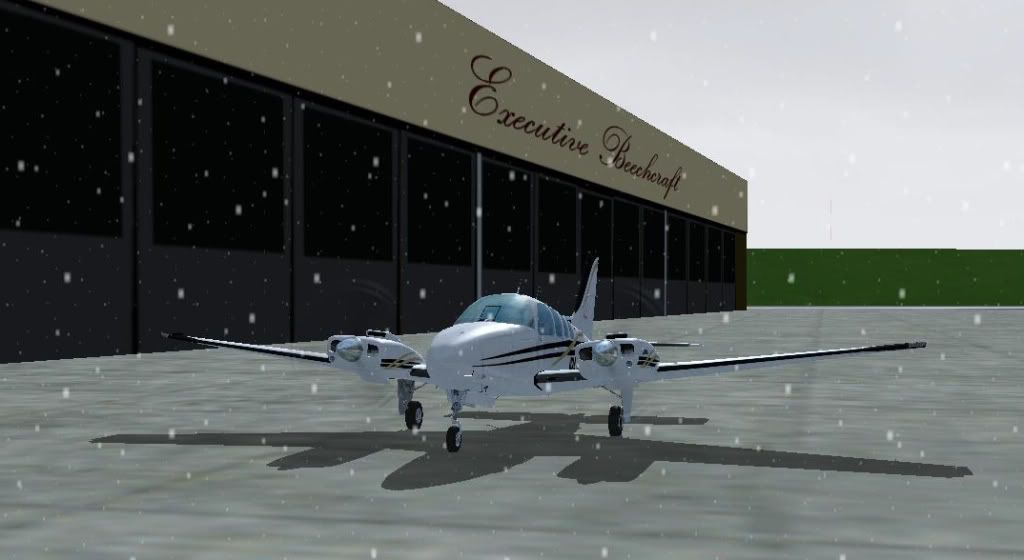 We were more than halfway through Nebraska before the weather finally got better, and the 50+ knot headwind we'd been bucking all the way across the midwest, through clouds and rain and snow, turned into a little bit of a tailwind as we whisked across the high plains of eastern Colorado, toward the Rocky Mountains in the distance.
Finally, out of the clag!
Coming out of Denver, we put on the oxygen right away and vaulted through broken clouds up to 16,000-ft. for a 2.5 hour IFR jump over the mountains to Salt Lake City. The winds were out of the south in Salt Lake, so I pointed us straight for the Ogden VORTAC (about 30 miles north of the city) so we'd have enough room to let down into the valley on a long, straight-in descent for runway 16 and Salt Lake Municipal No. 2 (U42), about three miles from the in-laws new house.
Rocky Mountain High!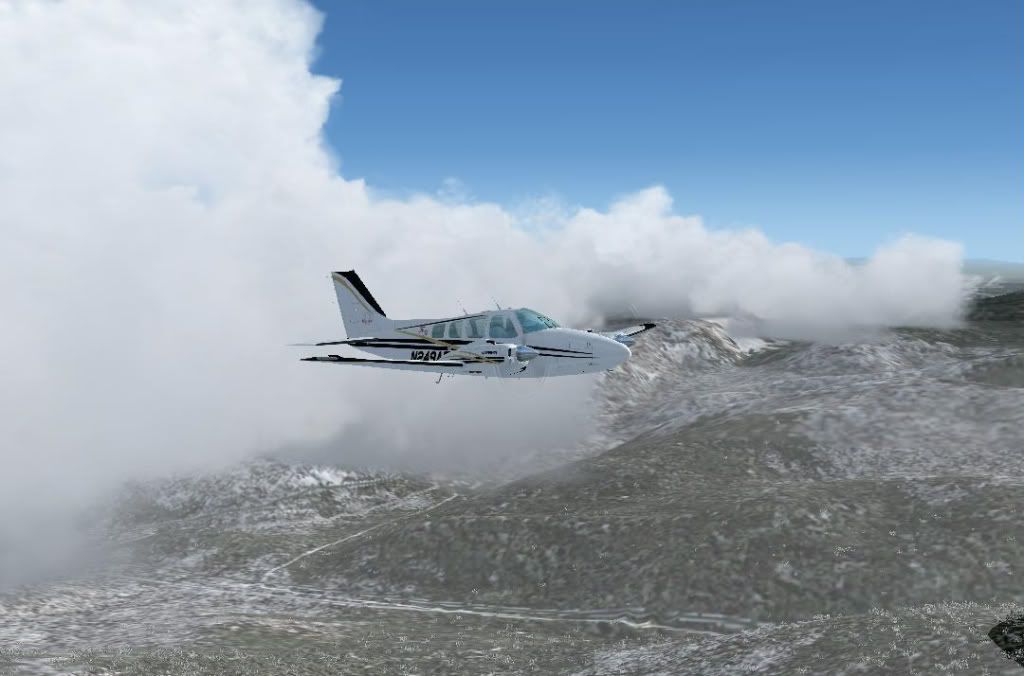 We got to Salt Lake City just as the sun was setting. Departing KCPK at 5:00 local, and arriving at the end of our day at 16:30 local (18:30 in the time zone we started from!) That makes for a long, long day of flying, but mostly fairly easy going, and mostly in daylight.
Still had a bit of altitude on coming into runway 16, and it's not nice to make a long straight-in to an uncontrolled field anyway, so I flew an overhead approach. I flew up the right side of the runway at 1,500' AGL, 160 kts. Abeam the departure end, I pulled the throttles back and flopped over to the left in a 30-degree AOB, level, decelerating turn. Passing through 150 KIAS, I lowered the gear and arrived on downwind, 120 KIAS, gear down, 1,500' AGL. Descended to pattern altitude on downwind, lowered the flaps abeam the numbers, and brought it in to land. Very smooth and stylish way to arrive.
Left Base for 16, U42
All in all, the Baron is a great way to travel with four folks and plenty of bags. We flew 1,600+ miles against the wind in a single day in four legs, the longest of which was 3.5 hours and the shortest being 2.5. There's plenty of room for two people in the four club-configured back seats. The airplane is climate controlled, and has all the instrumentation and de-icing gear you need for hard-IFR operations. Its only weakness is not being a stellar high-altitude performer due to a lack of pressurization and turbocharging. Even so, the vast majority of this trip didn't hurt much for that. Only two hours were flown above 10,000 ft., although it would have been nice to be able to get higher to get on top of the blizzard in the midwest, instead of punching through it at 8,000 ft. But it was smooth in the clouds, and with the de-ice gear, I wasn't too worried.
On deck in Salt Lake